Projects
Onicopod Product Line
The toenails and surrounding skin tissues are frequently affected by various kinds of disorders that, from simple discomfort, can become real obstacles to mobility.
Some examples are helomas or periungual calluses, periungual skin thickening resulting from friction or pressure due to the use of improper footwear.
These habits would also favor the development of specific nail diseases as onychocryptosis or ingrown nails, a disease sustained also by constitutional factors (foot deformity, increased curvature, thickening and/or fragility of the foot nail) or induced (improper cutting of the free nail fold).
Finally, there are some pathological (i.e. diabetes) or paraphysiological conditions (such as vitamin deficiency, aging and pregnancy) able to rebound on the nail trophism, modifying its shape, color and structure (onychodystrophy).
Most of these conditions constitute a predisposing factor for bacterial and/or fungal superinfections.

Read more


ONICOPOD® EMOLLIENT DROPS
Podiatric fluid with immediate softening effect adjuvant to the treatment for the thickened skin of the foot and the surrounding area of the nail.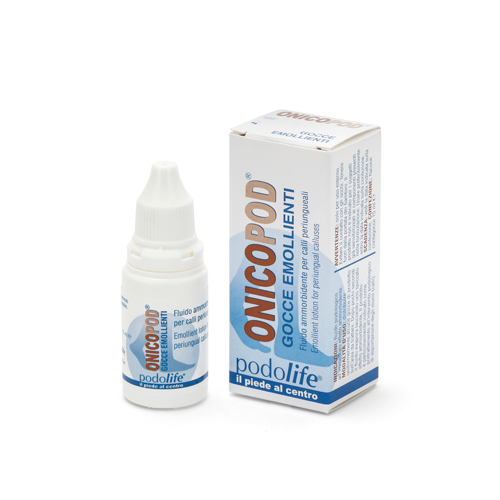 How to use: evenly distribute few drops of product on the area to be treated. After a few seconds the lotion evaporates leaving a marked softening effect . The product is particularly indicated for podiatric pre-treatment in case of surgical removal of helomas (calluses).
Packaging: 15 ml dropper bottle ℮
| Component | Activity |
| --- | --- |
| SODIUM PYROGLUTAMATE | Hydrating |
| UREA | Emollient |
ONICOPOD® TR DROPS
Podiatric fluid with trophic and restructuring effect normalizing the correct nail growth and structure.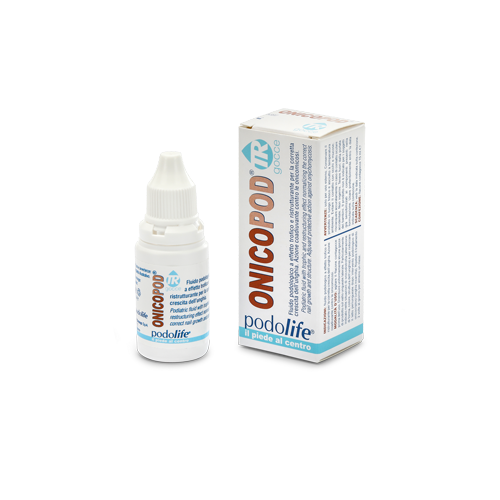 How to use: shake the dropper bottle before use. Evenly distribute few drops of product on the lateral nail bed. Particularly indicated for use in case of onychodystrophy (altered shape, color, structure of the nail) to strengthen the periungual bed after a podiatric surgical procedure for onychocryptosis (ingrown toenail). Repeat the treatment twice a day for at least one month.
Packaging: 15 ml dropper bottle ℮
| Component | Activity |
| --- | --- |
| BIOTIN | Epidermal renovation normalizer |
| ECHINACEA ANGUSTIFOLIA EXTRACT | Biological regulation of the antifungal activity |
| HYALURONIC ACID | Restructuring the extracellular matrix |
| RETINYL PALMITATE | Epidermal renovation normalizer |
| TRANS-TRAUMATIC ACID | Reepithelializing activity |
| UNDECYLENIC ACID | Biological regulation of the antifungal activity |
| UREA | Emollient |