Projects
Podatlet Product Line
Tinea pedis, commonly known as "athlete's foot", is the most common dermatophytosis of the foot.
It is characterized by skin maceration with reddish erosions on the sole and between the toes of the feet, which sometimes take the form of blisters.
The picture is often accompanied by hyperhydrosis and itching and, in specific cases, by hyperkeratosis with whitish thickenings of the epidermis on the plantar and lateral surfaces of the foot. The responsible agents are aerobic fungi (mainly Trichophyton Rubrum) which, after penetrating the stratum corneum, proliferate in the outermost epidermal layers of the foot.
This penetration is aided by warm, damp environments (swimming pools, saunas, etc.) and by disorders associated with impaired functioning of the immune system, such as diabetes and atopy.

Read more


PODATLET® ULTRA CREAM
Topical Medical Device for an efficacious protection of foot skin against the development of dermatophytosis.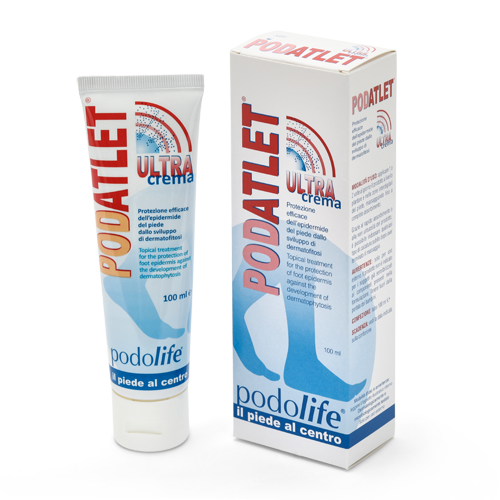 PODATLET® POWDER
Specific absorbent powder formulated to prevent the feet from epidermis maceration, which promotes the development of dermatophytosis.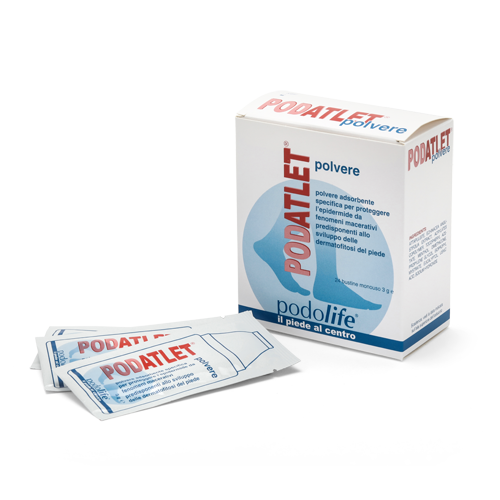 How to use: thoroughly wash and dry your feet, then sprinkle Podatlet powder on the skin, especially between toes and on the bottom, twice a day or more. The product can be use after the application of PODATLET® ULTRA Cream.
Packaging: 24 single-use packets 3 g
| Component | Activity |
| --- | --- |
| ATTAPULGITE | Water-adsorbant, anti-maceration |
| ECHINACEA ANGUSTIFOLIA EXTRACT | Hindering the microbial penetration (fungi and bacteria) |
| EUCALYPTOL | Anti-fatigue |
| MENTHOL | Cooling |
| POLYTRAP - ACRYLATE COPOLYMER | Lipid-absorbant, preodorant |
| USNIC ACID | Lipid-absorbant, preodorant |
PODATLET® POLIACT DROPS
Medical Device for topical use for the synergistic control of those factors responsible for the microbial penetration in the peri- and sub-ungual region.